Full Moon Sound Bath & Cacao Mini Retreat
Posted on 2023-08-28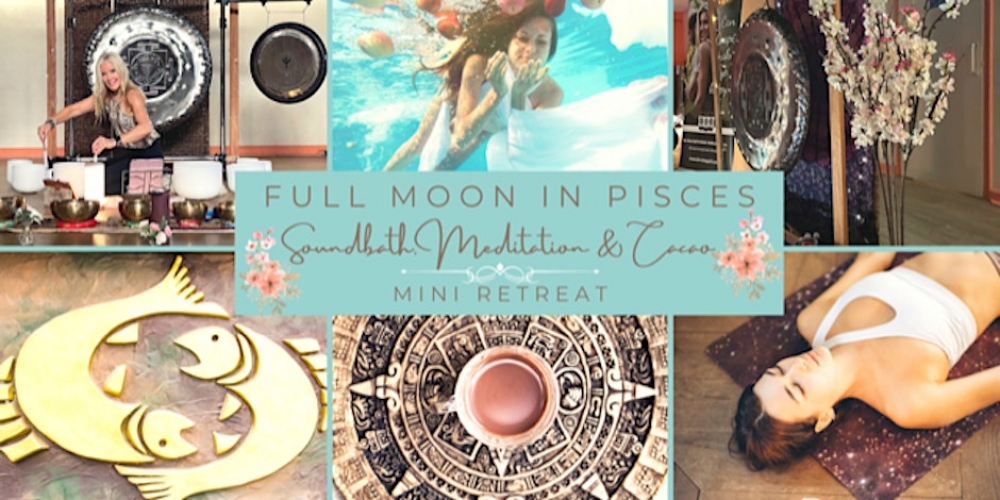 Describe what will happen during the experience
Full Moon.
This is another powerful Super-moon; the last Supermoon of four in a row. Also as it is the 2nd full moon of the month, it is known as a 'Blue Moon'.
The intuitive, watery sign of Pisces is said to be one of the most psychic signs of the zodiac ruled by Neptune, the planet of unconditional love, spirituality and compassion. Neptune helps us find deeper connection and sense of unity with ourselves and others. It is also the planet that helps reveal illusions (self imposed as well as collective).
The Supermoon will be intensifying the highly intuitive and powerful Full Moon qualities by 100x, so you'll be in the most perfect place to be soothed, nourished and gain all important insights during this very intense lunation.
In this beautiful space of nourishing connection, you will be given the opportunity to set intentions, enjoy a divinely blissful cacao blessing, relax for a healing guided meditation and powerful soundbath, with tea, g/f treats and time to connect again at the end. There will also be oracle cards there for you to gain further insights.
Purpose of the experience
Join us for another beautiful evening of soulful nourishment, as we get reflective for the magical Pisces Full Moon
Will there be a physical touch between the recipient and the creator?
No
Location of the experience
Who should avoid it? Under 18? Pregnant? Allergies and phobias?
under 18
Should the recipient source medical advice prior to this experience?
No
Do you offer medical advice for this experience?
No
Your bio and contact
Welcome to your Kundalini Yoga venue in Bracknell, Berkshire
Kundalini is a highly prized ancient style of yoga, designed to awaken your 'inner genius' and help you live up to your full potential – in mind body and spirit.
You do not need to be super fit or flexible, you can be a complete beginner, or have been practicing yoga all your life.
Kundalini 'calls' you, so if you've made it to this page then you are likely in the right place. Welcome, your exciting journey awaits
How do you take payments?
book online

Other listings from Alex