Pizhichil Ayurvedic treatment
Posted on 2023-04-04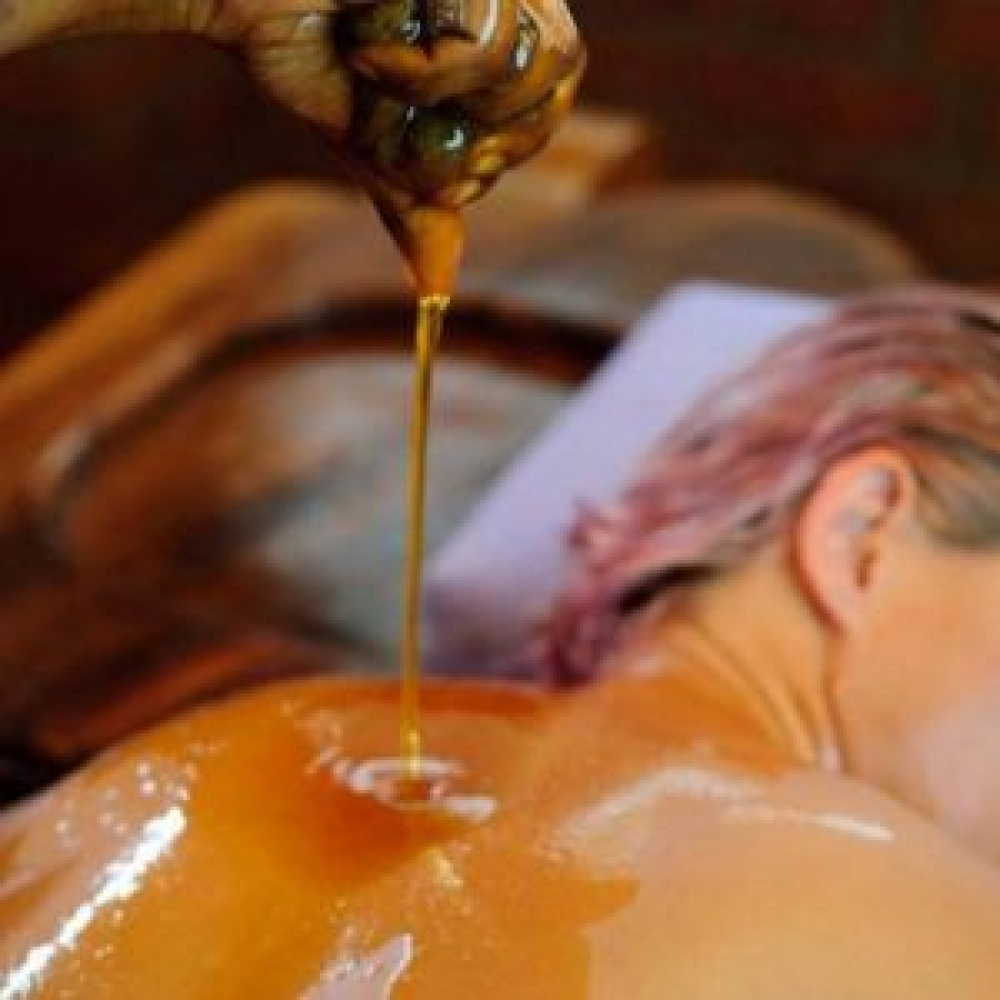 Describe what will happen during the experience
Pizhichil is a special form of Ayurvedic treatment that combines rich oil massage with a special heat treatment. This therapy is known as the "King's Treatment" due to its popularity with the Maharajas of ancient India. During this indulgent treatment 20 liters of medicated and warmed Ayurvedic oil is continuously poured over the body while two practitioners rub and stimulate the skin using hands and special cotton cloths. The process is performed with the person both lying down and while sitting in a chair specially designed for the purpose of applying medicated oils. This is a highly rejuvenating treatment that enhances muscular tone and retunes the entire nervous system. It comes as a package in itself – a course of 10 days is necessary to gain its maximum healing potential.
The meaning of the word Pizhichil is squeezing and the procedure involves squeezing of the warm and heated oil from a cloth. However, the first step in Pizhichil usually starts with applying oil on the head and body of the person receiving the massage. Then a cloth is placed or tied over the forehead so that the oil poured on the head does not enter the eyes. The oil that is used in Pizhichil can be varied ranging from sesame oil to ghee to other types of thailams which are made by combining various herbal oils. The type of Ayurvedic oil used on a person depends on his or her medical conditions and requirements.
Purpose of the experience
This is a highly rejuvenating treatment that enhances muscular tone and retunes the entire nervous system.
Will there be a physical touch between the recipient and the creator?
Yes
Location of the experience
Risks involved
Pizhichil does not have any side effects as such when done by trained professionals. If wrong methodology is used then a person can have complications like burning sensations, herpes, tiredness, hoarse voice, splitting paints in joints, vomiting, bleeding, fever, itching, skin rashes or irruptions.
Who should avoid it? Under 18? Pregnant? Allergies and phobias?
If a person is suffering from fever or indigestion, then he or she may not be able to undergo the treatment. Moreover, you ahould consult a doctor before undergoing the procedure.
Should the recipient source medical advice prior to this experience?
No
Do you offer medical advice for this experience?
No
Your bio and contact
Ayurvilla Spa
Our spa is a unique place where you can experience the classical Indian traditions – Ayurveda, Yoga, Meditation and Kalari. Our philosophy is to help our consumers to achieve optimum health with Ayurveda.
Your phone number
0121 706 5566
How do you take payments?
card

Other listings from Angela