Ancient Argan Massage - multisensory Ancient Thermal Bath experience
Posted on 2023-04-06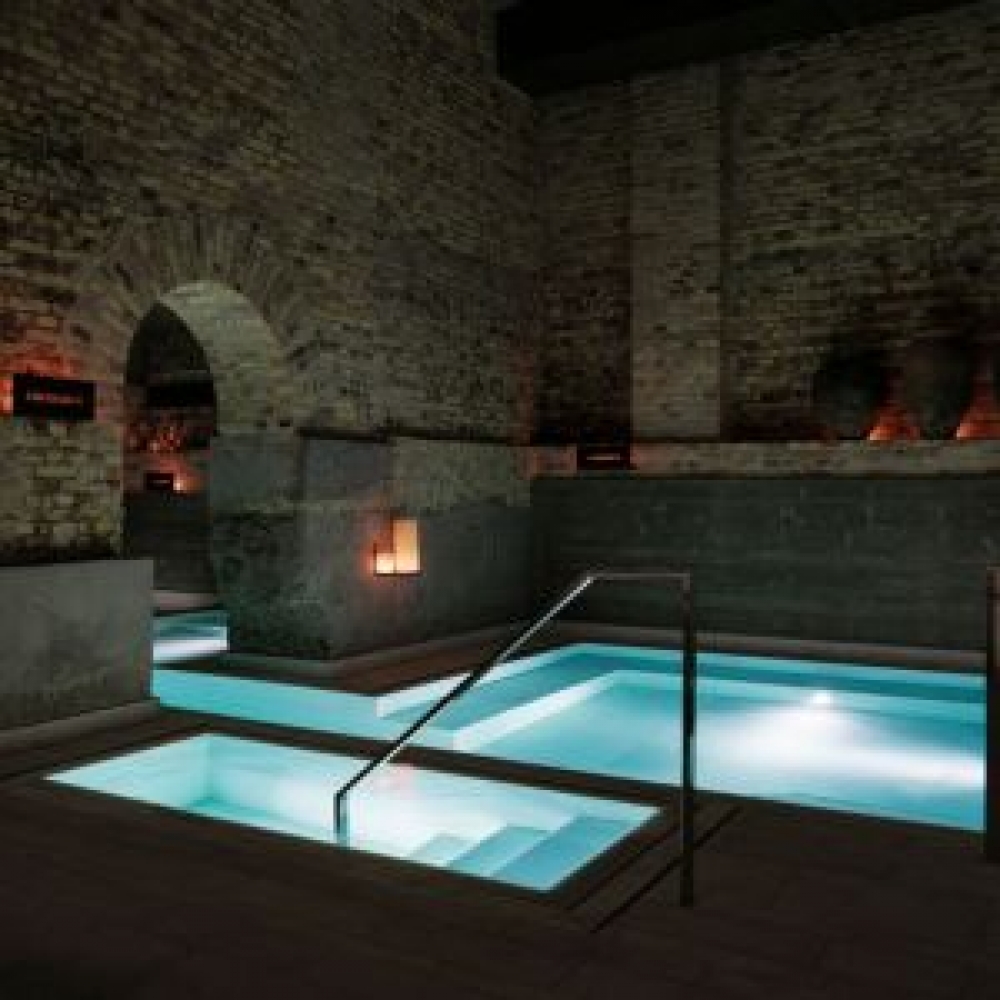 Describe what will happen during the experience
Discover the beneficial properties of Argan oil, used by the Berber women for centuries due to its delicate sumptuousness and seductive aroma, while you enjoy of a relaxing massage. This long experience is based around the nourishing and soothing properties of Argan Oil, that will immerse you into pleasure and give relaxation for your whole body.
This ritual also includes the Ancient Thermal Bath circuit a tour through baths at different temperatures (hot, cold, warm, ice), the jets bath, the Vaporium (Steam Room with aromatherapy), and the Flotarium (Salt Water Bath), in addition to the salt exfoliation area.
Includes:
A tour at your own pace through thermal baths at different temperatures
A 75 minute relaxing full body massage with warm, organic Argan oil
Access to the relaxation area to rest on warm marble stone and refresh yourself with some cold water or enjoy our special selection of AIRE tea
Purpose of the experience
This experience will immerse you into pleasure and give relaxation for your whole body
Will there be a physical touch between the recipient and the creator?
Yes
Location of the experience
Risks involved
AIRE is committed to providing a safe and supportive environment for all of our clients. We know that our clients bring a history of life experiences that may affect their comfort level with a massage. Our massage therapists have received training specifically geared towards survivors of sexual trauma and we have partnered with organizations such as RAINN to develop responsible and compassionate practices for these clients.
Who should avoid it? Under 18? Pregnant? Allergies and phobias?
under 18
Should the recipient source medical advice prior to this experience?
No
Do you offer medical advice for this experience?
No
Your bio and contact
AIRE ANCIENT BATHS LONDON LTD.
2-3 Robert Street Covent Garden, London WC2N 6BH

Body and mind benefits:
Argan oil is known as the "gold of the desert" given its numerous and powerful properties for the skin. It comes from North African countries, through a process of sun-drying and cold-pressing the fruits of the Argan tree. It contains a high percentage of fatty acids and is very rich in vitamin E, making it ideal for hydrating and preventing signs of aging. With this ritual you will achieve a feeling of total escape, as it involves a slow, rhythmic massage technique with long strokes.

Tips and recommendations:
During the thermal tour, listen to your body to know when you should change from one bath to another of a different temperature. If at any point during your massage you feel that the pressure is too intense or too light, please, tell your therapist.
Your phone number
+44 20 38304610
How do you take payments?
book via the website

Other listings from Parisa